Get to Know One of the Top Marietta Dentists
Dr. Atusha Patel is committed to providing excellence in dentistry and stands out as one of the leading Marietta dentists. The doctor uses the latest in dentistry techniques to provide you with a beautiful and healthy smile. Dr. Patel believes strongly in education to prevent oral health problems before they occur, and makes sure to keep patients fully informed about their dental health.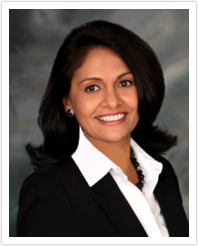 Dr. Atusha Patel, DMD
Dr. Atusha Patel grew up in Nairobi, Kenya. She received her undergraduate degree from University of Georgia in Athens, GA. She had completed most of her didactic courses, when she decided to go to dental school. She received her Doctorate of Dental Medicine from Medical College of Georgia in 1996
She is a member of the American Dental Association, the Georgia Dental Association, the prestigious Hinman Dental Society and Northwestern District Dental Society. She has extensive post-graduate training in cosmetic and general dentistry.
Currently, Dr. Patel resides in the Marietta area and is happily married to Neil with two beautiful children, Misha and Ayan. She enjoys traveling, cooking and being active at her kids' schools and extracurricular activities.
Dr. Patel absolutely loves practicing dentistry and treats all patients with one philosophy in mind 'treat all as I want to be treated'.